Taking care of their little smiles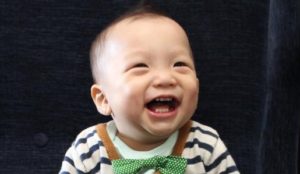 It is therefore important that parents introduce good oral hygiene practices at home. For parents with infants, this should begin as soon your baby's teeth begin to erupt. Start by brushing each day with a soft toothbrush. Using a toothbrush can often be too difficult for a little baby, in which case you can also use a soft cloth dampened with water to wipe the teeth. It is also a good idea to limit the amount and frequency of sugar in your child's diet.
It is so valuable to develop good cleaning habits and to feel comfortable in a dentist's chair from an early age. Dr. Yen encourages children of all ages to visit, even just to explore and say 'hello' to our staff, and to familiarise them with our environment. An opportunity to discover our equipment and take a ride in the magic chair makes it much more fun and less intimidating. If this is something that interests you, we welcome you to contact us online to arrange a visit.
For kids receiving treatment, we have a ceiling-mounted television to keep them occupied when they are in the dental chair, and with a choice of popular kids shows to keep them entertained.
The Australian Dental Association recommends children begin seeing a dentist starting from twelve months of age. At every check-up, Dr. Yen completes a thorough examination to check the health of all teeth, and to ensure that the teeth are erupting in a normal pattern. This is finished with a tooth polish, fluoride application, and of course the visit is rewarded with a dental gift pack. Your child will leave proud about having lovely clean teeth!
Fissure sealants
Fissure sealants are a common and effective preventative measure to protect your child's teeth against decay. It involves flowing a liquid 'seal' into the deep grooves of your child's molar teeth to make them more cleanable, therefore warding off tooth decay. A bright light is then placed over the liquid sealant material to harden it. This is a simple painless procedure that will go a long way in protecting their developing teeth.