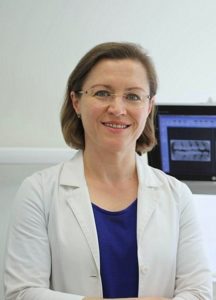 Dr. Alexandra Barratt graduated from Sydney University with a Bachelor of Dental Surgery (Honours) in 1993. She qualified with the Royal Australasian College of Dental Surgeons in 2001. Dr. Barratt continues dedicating herself to further education in dentistry in order to provide the most up-to-date, effective, and scientifically-based care for her patients. A comfortable patient experience is the most important thing to her.
Having practised in the North Shore for almost 20 years, as well as the Sydney CBD and Double Bay, has given Dr. Barratt extensive experience over a broad range of skills as a general dentist. She has a particular interest in orthodontics, root canal treatment, gum treatment, crowns and cosmetic work, and children's dentistry.
Dr. Barratt has three children of her own which has given her a particular interest in children's dentistry. She strives to make the dental experience of her child patients a truly positive one, and focuses on educating them about dental and dietary habits so they can have healthy teeth for life!
Alexandra's general interests include hiking with her husband and three children, cooking, and playing the violin with the NSW Doctors Orchestra.